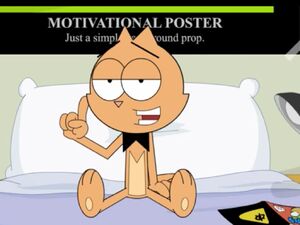 Conroy Cat is a character in "The Cartoon Chronicals of Conroy Cat" and Toons These Days. Conroy Cat wants to be a cartoon star, but not only he does he train in the laws of toon physics, he also does odd jobs around Cartoon Land.
In Toons These Days
Edit
Conroy himself was mentioned in episode 2: My Little Pony review,but he did not appear in the series until episode 12: The Ultimate Spiderman review. Since episode 19 he has had his own part in Toon These Days saying the positive part about the show.
In the web comic
Edit
In the web comic he is being trained by Doggy to learn how to be a cartoon character. he also has jobs in Cartoon land such as delivering pizza.
Video Appearances
Edit
Conroy Cat Shorts
Edit
Conroy Cat Ad From 1962
Conroy Cat on Rio
The Pizza Alchemist
Falling With Grace
Da Lazer Show
Cartoon Cashier
Toons These Days
Edit
Ultimate Spider-Man review
Monsuno review
Wreck-It Ralph review
SpongeBob SquarePants review
Sanjay and Craig review
Phineas and Ferb review
Littlest Pet Shop review
Slugterra review
Yu-Gi-Oh review
Bob's Burgers review
One Piece review
Teen Titans Go! review
Fairly OddParents review
Fish Hooks review
Gravity Falls review (Conroy's Version)